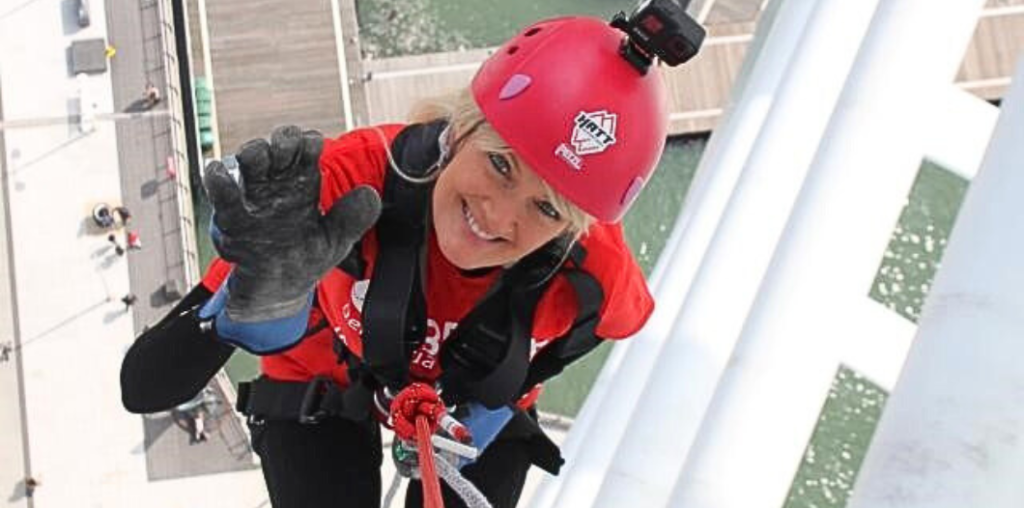 Care Campaigner Takes to the Skies for BRACE
Dare devil and Director of Care Campaign for the Vulnerable, Jayne Connery, took to the sky on Sunday 23rd April for BRACE Dementia Research, abseiling an incredible 500 feet down the Spinnaker Tower in Portsmouth.
Jayne's brave antics raised more than £3,000 for BRACE. However, this is not her first-time being a superwoman for BRACE. She has previously raised almost £5,000 for dementia research with more spine-tingling acts.
2017 saw Jayne wing-walking on a 450 horsepower, 1940s Boeing Stearman biplane. The plane flew over Gloucestershire with Jayne firmly attached to its wings!
Last year, Jayne also bravely abseiled down Brighton's British Airways i360 tower from a height of more than 500ft.
You would be forgiven for thinking that Jayne enjoys heights, but she is actually scared of them, making her fundraising feats even more impressive.
Director of BRACE, Chris Williams:
"As a small charity that funds dementia research we are so grateful that Jayne has taken to the skies for the third time in recent years to raise much-needed funds for dementia research. Jayne is a force to be reckoned with when it comes to supporting people living with dementia. We are so fortunate to have her support with dementia research as well. A real star."
Jayne Connery said:
"BRACE - Dementia Research is a charity very close to my heart and delighted we went over our target of £3,000 and very much looking forward to raising more important funds for BRACE in the future.

I would like to thank everyone who very kindly donated and a big thank you to my event sponsor Care Protect who donated to BRACE a very generous £2,000."
Huge thanks to Jayne for her unwavering commitment to dementia research and a big thank you to all of her supporters who have so generously donated.
Learn more about Jayne's Campaign work
Care Campaign for the Vulnerable (CCFTV) was set up soon after Jayne took the decision to bring her loved one out of a care home. While in the care sector, she saw an urgent need for greater transparency and safety, particularly caring for the elderly living with dementia.
Jayne admits she didn't always know how to effectively communicate her concerns to the home manager/care provider and as a family member who was experiencing care for the first time, saw there was no direct support to help her navigate the care system.
On setting up CCFTV ten years ago, Jayne wanted to be proactive when families contacted her for support and attends with families, best interest, reviews/DST meetings as well as visiting the elderly in care homes up and down the UK to get an idea of how they can be better supported.
After her own experiences, Jayne advises families on how to effectively communicate concerns, helping to maintain a positive relationship between the care home and family so care packages do not break down.
CCFTV offers vital support working alongside adult safeguard teams, social workers, care providers, CHC, CCG, and NHS complex care teams, helping to bring positive outcomes.
Find out more here: www.carecampaignforthevulnerable.com/