An early BRACE funded Alzheimer's test has been awarded £1.5 million to be developed for possible NHS use!
Join the Bath Half this October and take on a flat and fast race course. Use your running shoes to help defeat dementia.
Join us on Saturday 30th September, 10am - 5pm, for this free event in Bristol. A one stop event for families to learn more about dementia.
Run the TCS London Marathon on 21st April, 2024 and join 50,000 runners! Apply for a much sought after race place and support dementia research.
Please know if your family is affected by dementia, you are not alone. Hear stories from families with loved ones affected by dementia.
We Believe In a World Free From Dementia
Every donation, no matter the size, helps BRACE fund vital research that creates scientific progress and real hope for the future - earlier diagnosis, more effective treatments and, one day, a cure. Thank you for your support.
Together we will defeat dementia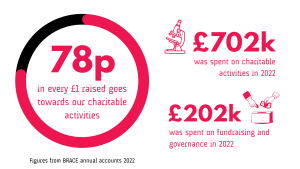 In 2022, 78p of every pound BRACE received went towards charitable activities. What does this mean? Well, it means BRACE is keeping overheads down and research well and truly up. We would like to say a big thank you to every person, community group, business and trust that donated last year. Be it a big…
READ MORE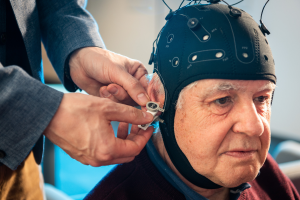 A simple, BRACE funded test for early diagnosis of Alzheimer's disease could soon be helping patients and their families at the Bristol Brain Centre to be diagnosed earlier and receive treatment sooner. This is thanks to a £1.5 million funding boost awarded by the National Institute of Health Research.   Dr George Stothart's Alzheimer's test,…
READ MORE