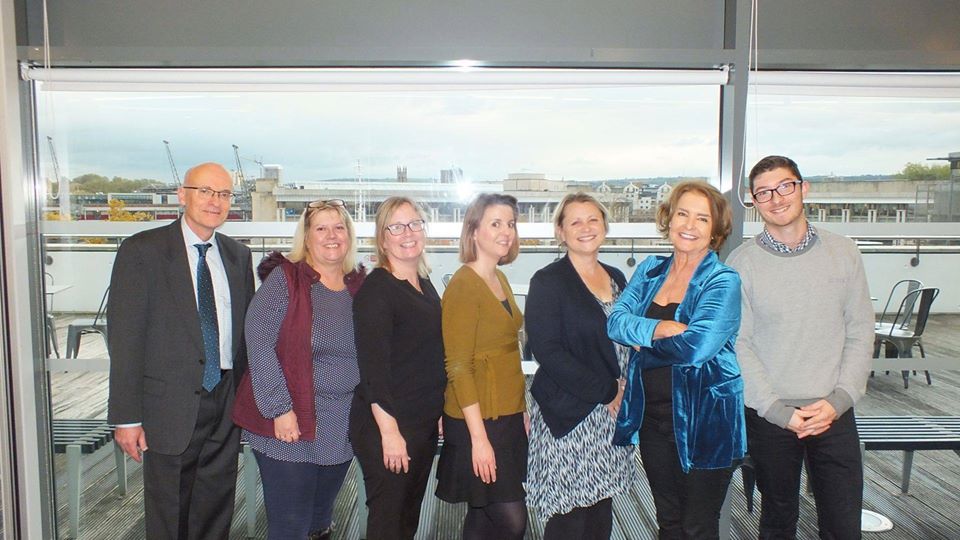 Small Charity: Big Impact!
BRACE has certainly had a big impact over the years! Now during Small Charity Week, 15th -20th June, it feels only right that we shout about BRACE's successes.
BRACE really is a small charity, with just six members of staff running the charity, with its office based in pre-pandemic times – in the Bristol Brain Centre in Southmeand Hospital. (The seventh person pictured on the far right, is Matt, a PhD student who spent three months at BRACE at the end of 2019).
BRACE's office is at the Bristol Brain Centre for many reasons, not least of all, because BRACE made a major contribution to the cost of developing the Brain Centre, which opened in 2015. The Brain Centre provides a high-quality home for a world class dementia clinical research with BRACE playing an integral role in its development. It is expected to be used as the home of clinical dementia research until at least 2035!
Less than a five minute walk from the Bristol Brain Centre is the South West Dementia Brain Bank, where researchers work on donated brain samples. BRACE has provided core support to the Brain Bank for over 30 years. It is a crucially important platform for both UK and international dementia researchers as it provides the tissue samples upon which many laboratory-based studies depend.
Outside of Bristol and Bristol University & UWE; BRACE funds dementia research at Bath University, Exeter University, Plymouth University, Swansea University and Cardiff University!
BRACE's work extends to ensuring the future of dementia research. BRACE funds several PhD studentships each year and has thus far, funded over 30 PhDs to ensure there will always be specialist dementia researchers to tackle the fight against dementia both now and in the future.
None of this would be possible without our supporters, trustees, volunteers and last, but not least, the hardworking researchers who have dedicated their careers to fighting dementia. A huge thank you to you all.
BRACE may be small, but we certainly pack a big punch!