Together 4 Dementia 2021 Online
November 2, 2021 @ 10:45 am

-

3:00 pm

UTC+0

£10.00 – £15.00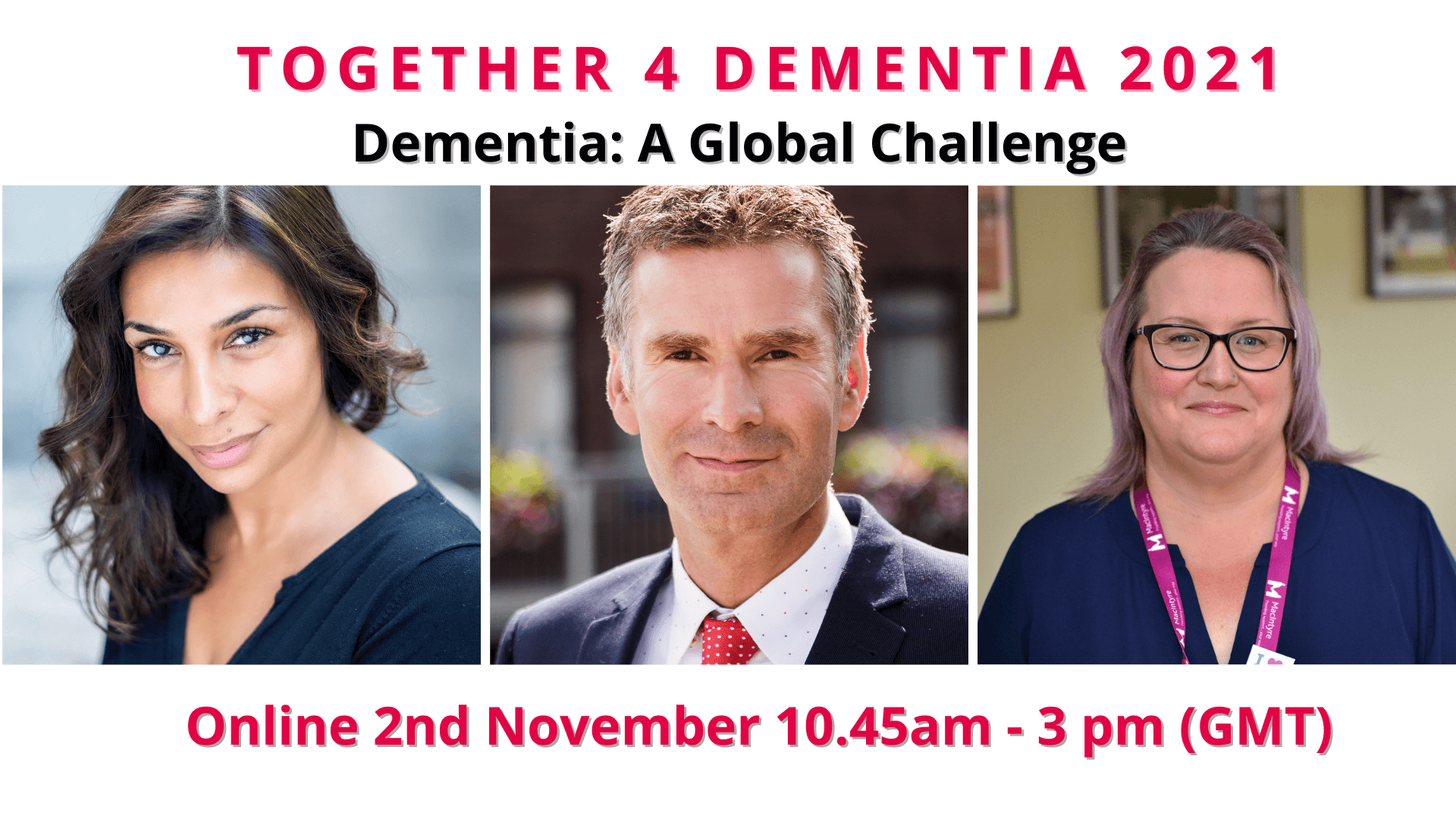 Following the success of last year's online BRACE conference, we invite you to join us again on Tuesday 2nd November at 10.45 am, GMT, (find out what time it will be in your country here).  This year's theme is 'Dementia: A Global Challenge'. 
View the full Together 4 Dementia 2021 Agenda
View Together 4 Dementia 2021 FAQs
Dementia affects almost every family and community around the world. Our speakers will explore how dementia affects different groups of people, cultures and those living with disabilities.  
We have an outstanding line–up for the day, including:  
Professor Clive Ballard, University of Exeter – one of the UK's leading dementia researchers - will talk about Exeter's pioneering PROTECT project. A UK research study aiming to better understand how healthy brains age and why people develop dementia.
Eloy Van Hal – one of the creators of De Hogeweyk a dementia village in The Netherlands where residents can live a 'normal life' with severe dementia,
Shobna Gulati – actress and former Coronation Street star, dementia campaigner and author of  'Remember Me? Discovering My Mother as She Lost Her Memory'
Lori La Bey – broadcaster on Alzheimer's Speaks Radio, thought to be the first radio show in the world dedicated to dementia, from Minneapolis, USA
Jane Nickels – the UK's first dementia and learning disabilities Nurse working with MacIntyre
Rianna Patterson – How We Speak About Dementia, Founder of Dominica Dementia Foundation and Film Director of Dementia The Island Journey
Willy Gilder will join the panel for Q&A's. Willy Gilder is an ex-journalist and a current artist living in Edinburgh. He shares his experiences of living with dementia on You Tube,  Facebook, Twitter and to whoever will listen. He wants to see better systems and better support for those living with dementia and describes meeting peers as literally life saving.
Ali Vowles, well known BBC reporter and presenter, will chair the conference
 There will also be the chance to sign up to networking in the morning and workshops at lunchtime. 
The workshops will be hosted by:
Pete Hill, broadcaster on the radio show The D Word, a weekly radio programme about dementia with an international audience will discuss 'Media Coverage of Dementia.'
Rebecca Cousins, a ReMemBr research nurse and Jonathan Blackman, a Research Fellow in Neurodegeneration from the University of Bristol they are both based at The Bristol Brain Centre. Together they will outline the dementia research currently being completed at the Brain Centre.
Food experts, Apetito, 'Dementia Friendly Dining.' Live from Apetito's kitchen, Declan Henderson and Clare Hunt will be demonstrating a new concept in dementia friendly dining.
This year we will be charging a small ticket price to help cover costs and protect dementia research funds.
If you have a dementia diagnosis, are a dementia carer or a student, please contact us about a concessionary place.