Captain Tom 100 – Do it Your Way for Dementia Research
April 30, 2021

-

May 3, 2021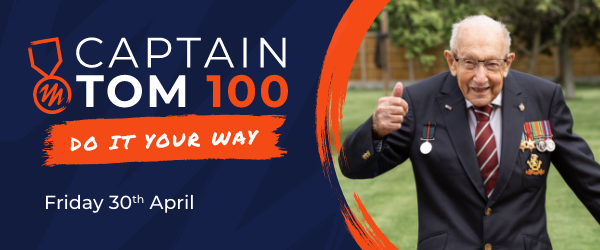 The Captain Tom 100, is calling on people like you to take part in a national fundraising effort to make a real difference. Captain Tom heroically raised over £33 million for the NHS when he walked 100 laps of his garden in April 2020.
Be a hero like Captain Tom – help raise funds for dementia research!
There's lots of 100 challenges you could do such as:
Walk 100 laps of your garden, cycle 100 km, bake 100 cupcakes, be silent for 100 minutes, tell 100 jokes or sing for 100 minutes. There are no rules! (Please stick to the government social distancing guidelines).
Take on your Captain Tom 100 challenge between Friday 30 April and Monday 3rd May. Ask your friends and family to sponsor you through your JustGiving page.
Need help getting started? Please email Jeanne on [email protected]
Thank you for your support.
Related Events