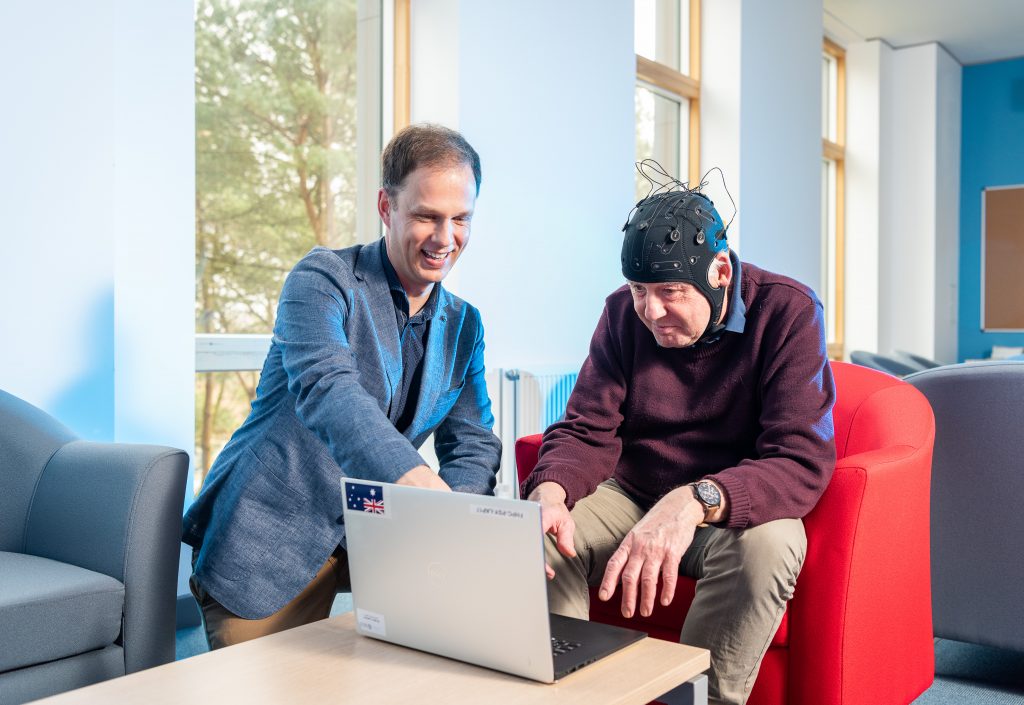 Simple EEG Test offers hope for early Alzheimer's diagnosis
A revolutionary approach to earlier Alzheimer's diagnosis is being pioneered by dementia researchers at the University of Bath, thanks to BRACE Dementia Research funding. The innovative test involves looking at flashing images over two minutes, whilst the brain waves are measured using an EEG cap.
The researchers who developed the 'Fastball EEG' technology used in this test, say their approach, which is cheap, portable and can be used in patients' homes, offers real promise as an early detection tool. Currently there are very limited tools for early dementia detection.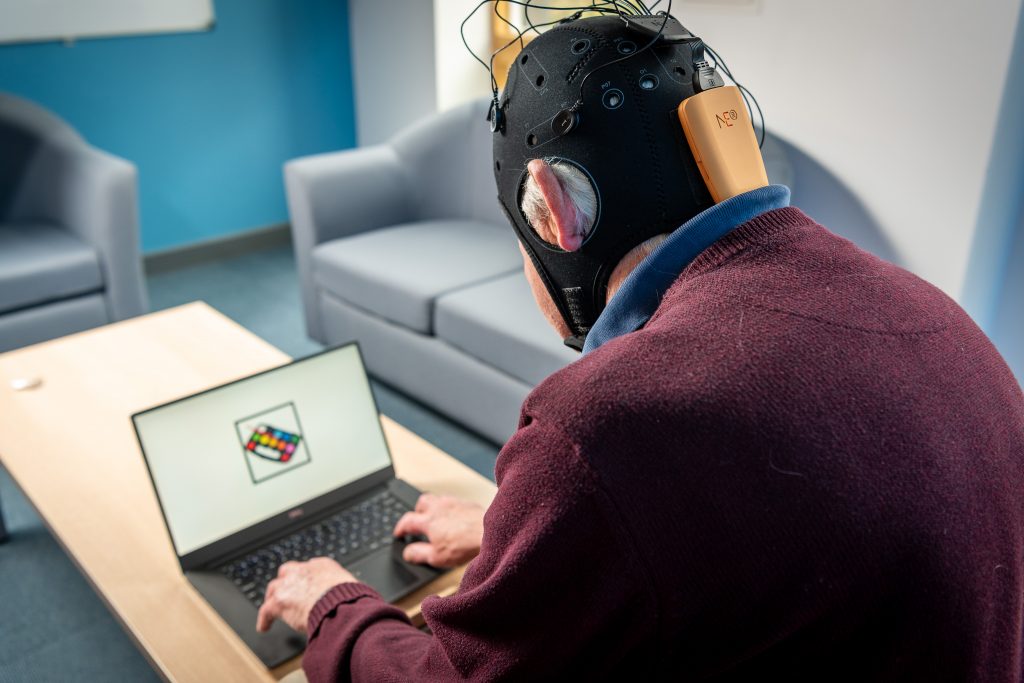 Photo Credit: Nic Delves-Broughton/University of Bath/PA
New findings from the team, published today on World Alzheimer's day - 21st September, from a study which involved 60 adults, show that 'Fastball' is sensitive to memory changes in Alzheimer's. The findings show the test can detect subtle changes in the brain well before a patient visits a doctor with suspected Alzheimer's. Changes caused to the brain by Alzheimer's, may occur without the individual's awareness, up to 20 years before a diagnosis.
Earlier diagnosis of dementia could support potential drug development to target the very first signs of dementia, thus, delaying the progress of the disease.
There currently are no drugs to slow down the disease and damage to the brain.
Practical and low-cost lifestyle interventions such as exercise, that have been shown to slow the advancement of the disease, could also be offered. Targeted intervention at the earlier stages of Alzheimer's may offer people affected by the disease the chance to live well for longer.
Writing in the journal BRAIN, (published 21st September 2021) the Fastball team explore why early diagnosis is critical for dementia research given current diagnoses typically occur relatively late in the disease progression. Alzheimer's is the underlying cause of approximately 60% -70% of dementia cases.
Alzheimer's disease is currently diagnosed using a combination of subjective and objective reports of cognitive decline, often involving memory tests administered in clinic. These tests are prone to various biases, including assessment anxiety, but also require verbal and written communication abilities which make them ineffective for certain people. This form of testing arguably comes after much damage has already been done to the brain, though Alzheimer's.
Lead researcher and cognitive neuroscientist, Dr George Stothart of the Department of Psychology at the University of Bath explains:
"We are at an exciting stage in the development of Fastball. We are testing the tool in earlier and earlier stages of Alzheimer's, and expanding the type of brain function it can measure, to include language and visual processing. This will help us to not only understand Alzheimer's but also the many other less common forms of dementia."
"Ultimately the Holy Grail of a tool like this would be a dementia screening tool used in middle age for everyone, regardless of symptoms, in the same way we test for high blood pressure. We are a long way from that, and screening in the absence of effective intervention comes with its own moral considerations, but this is a step towards that goal."
Mark Poarch Chief Executive of BRACE Dementia Research:
"We were delighted to be able to fund Dr Stothart's research, which clearly has exciting potential. It could result in an early diagnostic tool with benefit for innumerable people and help turn the tide against dementia. More generally, we have seen in the last year what happens when the world ploughs resources into medical research to find a vaccine for a dangerous virus, and we now need to give dementia researchers the resources they need to achieve comparable breakthroughs."
Dr Stothart and colleagues will soon start work on a significant £100,000 longitudinal study of early dementia funded by the Academy of Medical Sciences. The study will involve testing patients with Mild Cognitive Impairment using the new Fastball tool. Mild Cognitive Impairment is for some patients the first signs of Alzheimer's, but crucially for many it is not, and determining who is going to progress to Alzheimer's could move diagnosis earlier by up to five years.
The latest work, which was supported by BRACE Dementia Research charity builds on a proof-of-principle paper published in May 2020 in the journal NeuroImage.
Please help support World Class dementia research with a donation and together we will defeat dementia. Thank you.