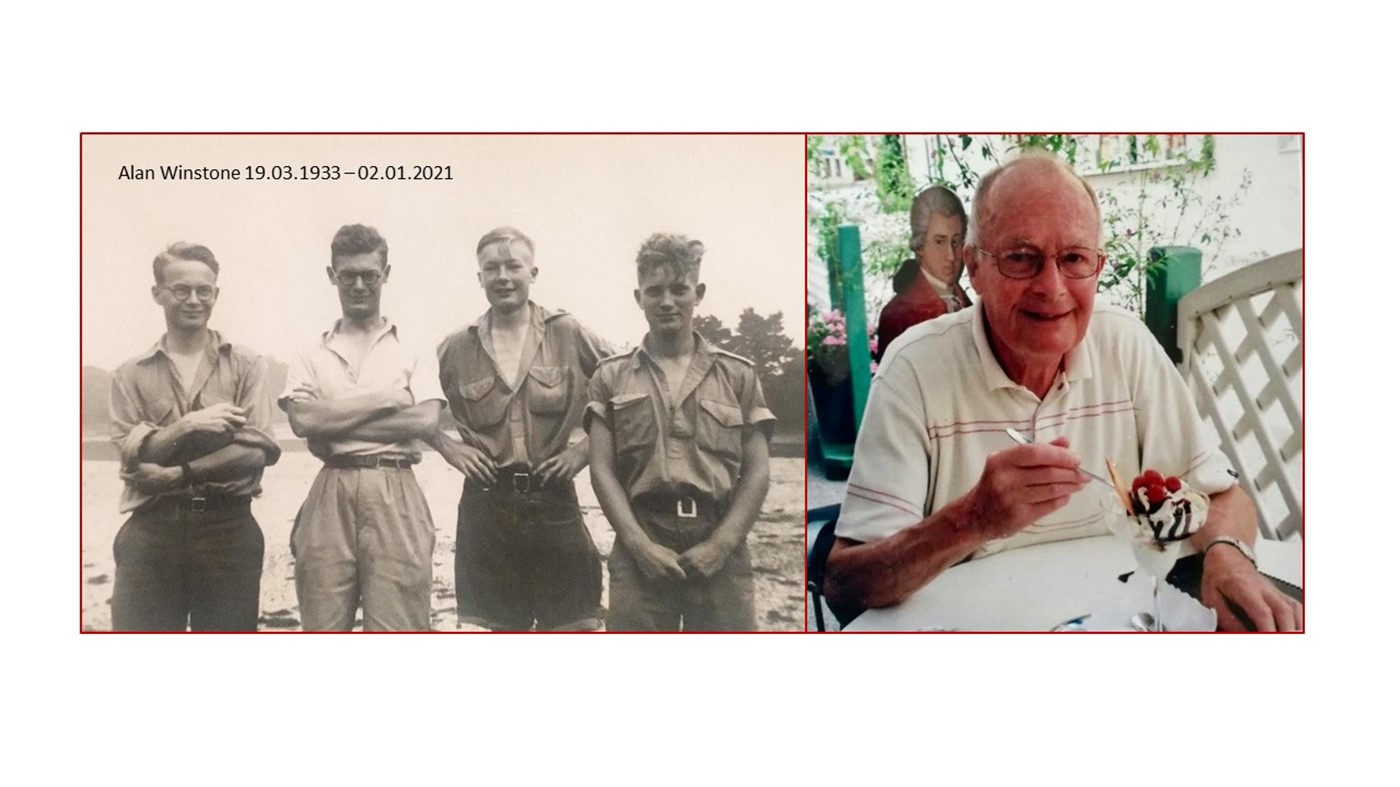 19 Mar 1933 - 02 Jan 2021
In Dad's latter years he liked to recount his life and used to describe himself as 'lucky'. I would like to think he was right. Born healthy into a loving family, his early years were happy and adventurous, in particular cycling across the country with like-minded cousins Sidney and Dougie and his brother Ray - ticking off the many youth hostels they visited together. Later the excitement of motorbikes and sports cars, including his beloved 'Frog-eye' Sprite. He followed his chosen profession of dentistry like his own father, with his success measured in a list of loyal patients who would say how gentle he was.
He spent his national service in the navy, as did his brother Ray, but whilst Ray was assigned to tank landing craft, Dad was lucky in comparison by being assigned a tour of duty through the Mediterranean on Ark Royal. A time he later recalled repeatedly with great fondness.
He was lucky in love finding Mum, a bridesmaid at his brother's wedding, and was loved in return. His own happy family life followed, loving his roles as husband, father and especially grandfather to Abby, Bethany and Poppy - Tapa as he was known.
Quality family time was by regular summer holidays, often to the beach but also notably a canal holiday where he was again lucky not to break the barge during a head on collision - his naval skills temporarily having left him, leading to a look of complete horror on the rapidly closing craft.
Dad had a love of wildlife, in particular ornithology and enjoyed bird watching holidays abroad with Mum. He was quite accomplished in recognising birdsong and was something he continued to enjoy more locally in later retirement with the doors open from his favourite chair and perhaps with a cup of tea and a biscuit.
He was lucky in having a long and happy retirement with Mum, enjoying their time together with holidays to distant shores - South Africa, Canada, Austria, Italy and France. The last family trip to the Loire for Mum and Dad's Golden wedding anniversary staying longest in Dad's mind.
Dad had a catholic taste in music, as you will hear in the chosen selection - his retirement increasing that range from traditional classical - he used to enjoy attending piano recitals - into appreciating the more modern, happy to enjoy anything that he could 'conduct' to.
Dad was very dutiful and caring. One time, a pet hamster was lost and presumed under the floorboards. The coaxing back had not worked, and I had almost accepted he was a goner. Dad, however, came to the rescue and late into the evening the carpet was rolled back, the toolbox was out, and floorboards were lifted, and holes started appearing across the floor until Harry was able to scamper back to a welcoming hand. Harry had the luck that day!
Dad was careful and organised. "A tool for everything and everything in its place", he used to say. His shed and toolbox are testament to that. He taught us the proper way of doing something. Which I ignored at the time but soon found it a mindset more difficult to ignore in later life!
Dad always wanted to be helpful, sometimes too helpful. I remember once after Mum had spent the morning creating a family lasagne, that as soon as it came out of the oven, Dad helpfully poured cold water over it to give it a soak - even before it had been served out! Considering the scream, I think Dad was lucky to get away with that!
Whilst we all grieve the loss of my Dad, we should remember how full and successful his life was - practical, providing for our family across the years and also how charming, gentle and loving he was. He was not one for the limelight but always there, always supporting and we were lucky to have him in our lives.